Learn to Ride Break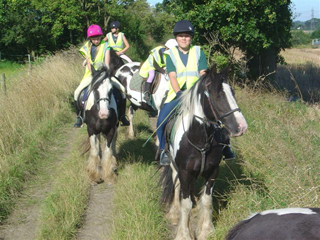 This 2 night break is ideal for adults and children who want to learn to ride and to feel confident around horses and ponies.
Dunton Stables is an ABRS approved riding and trekking centre with qualified and experienced staff who will help you get the most from your learning experience here. The horses and ponies are kind, steady and reliable and the staff team is friendly and helpful.
During your 2 days with us you will have the opportunity to learn how to:
Put on a headcollar correctly
Tie up a horse safely
Lead a horse safely
Groom and present a horse
Help to tack up (bridle and saddle) and to untack
Care for tack
Mount and dismount safely
Ride in walk and working trot
All actvities will be carried out under instruction with close supervision to ensure that you are safe. This is a real 'hands on' learning experience built around riding lessons. mini-treks and a trek down to the local pub for lunch on Day 2.
You will stay on site at E-or Lodge in comfortable and newly furbished surroundings. Each twin bedded room has en-suite facilities, a television with free sat and wi-fi with free internet connection. Breakfast and snacks and drinks throughout the 2 days are provided and you will be free to eat out each evening at one of the many local pubs or restaurants.
Based on 2 people sharing, the price for this action packed 2 night break is £250.00 per person. Please note that children under the age of 12 years must be accompanied by an adult.
Bookings made are subject to availability and must be paid for in advance. Please call us to take advantage of this special 2 night package. We guarantee that you will gain enourmous confidence and new riding skills and many new friends from our dedicated staff team and our lovely horses and pomies!