Horse Rug Washing
Horse rug washing - Warwickshire
Keeping horse rugs clean can prove to be difficult if you are cleaning the rugs yourself, either by hand washing or using a conventional washing machine.
Removing tough stains and the process involved in thoroughly drying the rugs can cause problems when doing it yourself, which is why we recommend using our horse rug washing services to assure that you receive professional cleaning results.
Washing your horse rugs with Dunton Stables will ensure that all the correct cleaning chemicals are used and that rugs are cleaned at the correct temperature and dried through the correct process.
It is a good idea to clean your horse rug once a year as they will last longer and will also be more comfortable for the horse. It also ensures that the horse stays cleaner and can assist in preventing skin problems or irritations.
Horse rug washing at Dunton Stables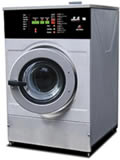 All horse rugs are individually washed to ensure thorough soil removal. We wash horse rugs in a non-agitating commercial sized washer using water at no more than 40°C and hang dry to avoid shrinkage.
All horse rugs are laundered with the following specially formulated cleaner:
Nikwax Rug Wash (Environmentally safe)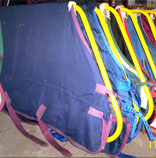 Waterproofing
Using household detergents on your waterproof blankets breaks down the waterproofed surface that protects your horse. Waterproofing adds water repellency to horse blankets, which protects your horse while maintaining the life of the blanketís fabric. We offer a wash-in waterproofing for your blankets. To maintain water repellency, we recommend waterproofing or re-waterproofing your items once a year with:
Nikwax Rug Proof or Tech Wash
2023 Price List
Horses
Stable Rug
£6.00
Turn Out Rug
£7.00
Wash Plus Re-Proofing
£13.00
Neck Cover
£3.00
Numnah
£2.00
Coolers & Summer Sheets
£4.00
Exercise Boots (4)
£1.00
Travel Boots (4)
£4.00
Bandages
£1.00
Pets
Dog/Cat beds
From £5.00
Please contact us for more information on our horse rug washing services.