The Stables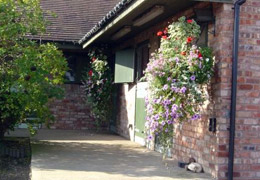 The Cobs favoured by Dunton Stables are hardy horses that are used to living out summer and winter.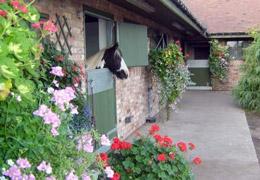 Their thick coats and feathered feet help to protect them from the elements. However, there are 9 purpose built 12ft square stables that accommodate our horses & ponies should they need to be stabled and there are plans to build more.
Additional On-Site Facilities
In addition to the stable block there is a wash room, with hot water readily available to ensure that the horses are always well presented for the clients.
The bathing and grooming of the horses & ponies are jobs that are very popular with the volunteers who work at the yard and are enjoyed, equally, by the animals being pampered!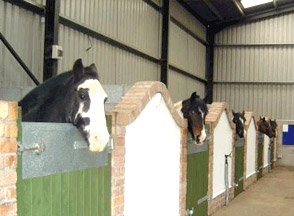 Stables Office
The Dunton Stables office remains the hub of the yard. This is where clients gather to discuss their riding experiences and where parents and other spectators come for refreshments and to enjoy the hospitality given by all of the staff.
Welcoming Environment
During the summer-time the wonderful hanging baskets are always a subject of admiration whilst in the winter months, the wood burning fire seems to attract a great deal of attention.