Chip Trek
Horse & Pony Trekking for Kids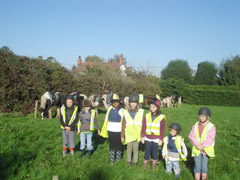 This horse and pony riding activity is ideal for children's birthday parties or for a group of young friends wanting to enjoy something together. As the trek is conducted in walk only, both novice and experienced riders can participate. Our experienced leaders walk alongside the horses to ensure that even the totally inexperienced riders feel safe and have an enjoyable ride.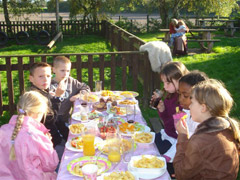 The trek follows the bridle path along the track and then across fields as far as the Marston Farm Hotel. A short walk along a quiet lane leads to the Dog & Doublet, a canal side pub that serves a wide range of food and beverages. On dry days, riders can sit at the picnic tables along the canal front and enjoy the relaxing atmosphere.
On colder or wet days, our riders are made welcome inside the cosy pub to enjoy a plate of chips and a non-alcoholic drink that are included in the price. Parents and friends of riders are welcome to walk with the trek or to meet it at the pub where they can enjoy a drink and a meal if they wish.
Whilst the riders eat, the horses are tethered in a paddock where they munch happily on some grass until the trek is ready to depart. The ride takes about 25 minutes each way and an hour can be spent enjoying the food and drink or having a short walk along the tow path where boats are often moored.