Riding Holiday UK
Enjoy your riding holiday UK at Dunton Stables & Horse Riding Holidays Centre which is located in rural Sutton Coldfield, West Midlands. We offer 2 night riding weekends and 4 night horse & pony trekking holidays ideal for families and small groups of horse riding enthusiasts.
UK Riding Holiday Accommodation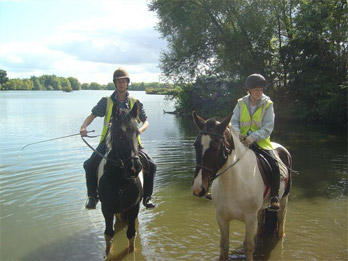 Dunton Stables offers high quality riding holiday accommodation facilities at its horse & donkey stable yard. Accommodation comprises of twin bed rooms with en-suite facilities and Wi-Fi as well as televisions. Though you are unlikely to find time to watch tele during your stay as you will be sleeping directly above the stables.
Rural Location - Riding Holiday UK
Our UK Riding Holiday Centre is located in a scenic rural location in Curdworth, Sutton Coldfield in the West Midlands, UK - see our Local Travel Guide page to find us on a UK map.
Riding Holiday UK Benefits
So why should you stay at Dunton Stables for your UK riding holiday? See below for a list of reasons why, you should book your riding holiday UK with Dunton tables:
Less travelling than a riding holiday abroad
Picturesque UK countryside, marshland, landscaped lakes & ponds
Excellent twin bedroom en-suite riding holiday accommodation
All activities, meals and leisure facilities are included within the riding holiday prices
Qualified & friendly staff
Horse riding lessons available
Good central England transport links near Birmingham
By coming to Dunton Stables for your horse holiday, you'll save in terms of travel times and costs as you'll have the convenience of not having to travel too far. Also you won't need to book a ferry or flight and don't have to organise passports for yourself and your children if you we're considering a horse riding holiday in Europe or further afield.
Enjoy pony trekking holidays with the picturesque countryside of central England every day as you ride our horses across Kingsbury Water Park. Transport for you and the horses as well as horse trek trained guides are provided by Dunton Stables.
Riding Holiday UK Accommodation Details
Our riding holiday UK accommodation features twin en-suite rooms with Wi-Fi internet access, FreeSat television and tea & coffee making facilities. The holiday rooms are located above the horse stables close to the horses you will be riding during your stay. Our riding holiday accommodation has been designed to be ideal for families and small groups of equestrian enthusiasts who enjoy horse riding and pony trekking.