Horse Riding Holiday Accommodation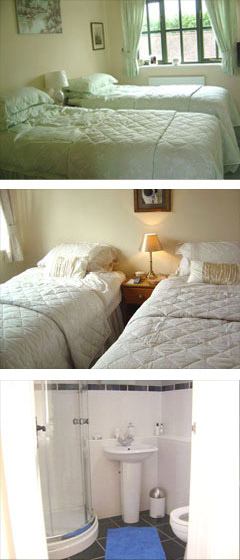 The horse riding holiday guest accommodation at Dunton Stables is contained within the managers' apartment, named 'E-or Lodge', (after the donkeys!) and situated on top of one of the stable blocks. The apartment is accessed by an external stairway leading from the yard.
All of the building are constructed from reclaimed brick and are in perfect harmony with the surrounding green belt land. The stable blocks are built in 'L' shapes and joined by an archway that leads to the barn and further indoor stables. During the late spring and summer time, the hanging baskets and window boxes are the envy of all of our visitors.
Stables Riding Holiday Accommodation
The single barn door entrance provides entry to the managers' living quarters as well as to the riding holiday guest bedrooms. These are twin bedded rooms with windows that overlook the stable yard and face the adjoining stable block.
Each room is centrally heated and has en suite facilities. They are fully equipped with Freesat television, WI-FI internet access and have tea and coffee making facilities, and ample wardrobe space. Towels are included. The rooms are light and airy, are freshly decorated to a high standard and are very comfortable.

Smoking is not allowed in the rooms but there is a terraced area, fitted with picnic tables and overlooking the ménage, where smoking is permitted.
Meals Are Included
A light breakfast is served to riding holiday guests in their rooms and this consists of fruit juice, tea/coffee, a cereal of choice and toast/croissant. Rooms are accessible to guests at all times and are private. The owners and their staff are friendly and welcoming but equally respectful of their guests' private time.