Horse Trekking Holidays
Come and enjoy great horse trekking holidays at Dunton Stables in Sutton Coldfield. We offer 2 night riding mid-week and weekends as well as 4 night trekking holidays suitable for families and small groups.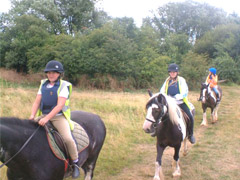 Our trained staff make sure that the activities provided on our horse & pony trekking holidays are supervised at all times to ensure you and your families safety and so you get the out of your riding experience with us. If you need help or guidance to improve your horse riding ability during your stay, we can help you progress so you feel more confident on horse-back. In fact we access all guests' riding experience upon arrival so that we can design pony trekking routes around you and your group.
Dunton Stables Holiday Accommodation
Our horse trekking holidays feature pleasant and comfortable accommodation on-site above our stable block, comprising en-suite twin rooms with the following facilities included within the price:
WI-FI internet access
All rooms are light and airy
Freshly decorated to a high standard
Freesat television
tea and coffee making facilities
ample wardrobe space
Towels are included
Horse Trekking Breaks & Weekends
At Dunton Stables we aim to meet your needs for UK horse trekking holidays by offering a range of options including 2 night mid-week and weekends as well as 4 night breaks. In addition we understand that whilst most people will want all inclusive package where all activities and meals are provided, there may be some who want a bed & breakfast option and then they will dine out at local pubs & restaurants.
Horse Riding Holidays - More Info
If you wish to take advantage of our pony and horse trekking holidays and have a few questions regarding the facilities on offer or the age groups we cater for, do not hesitate to view our horse riding holidays FAQ page, main riding holidays section, make a booking via our online form or make an enquiry via our contact form, alternatively you may prefer to give us a call on: 01675 470330